Penn and Theron announced their courtship in 2013. With 15 years and 10 centimeters apart they seemed inseparable (Photo: Getty Images)
In life in general and in love in particular, there are stories that end well or very well, there are stories that end badly or very badly and there are stories that do not end. But there are two more: those that end before they begin and those that simply end. the of Charlize Theron Y Sean Penn is one of the last. Her romance made headlines and excited hopeless romantics who believe in love stories with happy endings. It was one of those loves that seemed destined to last/envy and that ended abruptly, with few explanations but a lot of speculation.
The courtship did not start on a particular day, nor was it the product of a crush, much less love at first glance. They started as friends and 18 years later the beautiful friendship turned into a great courtship. They met in 1995 when Sean was 35 years old and already sported that kind of worn-out face that is so attractive. Charlize had turned 20 and she was the owner of that perfect beauty that doesn't need special light because she has her own. They saw each other, they met, they chatted but they didn't fall in love; by that time they were both engaged.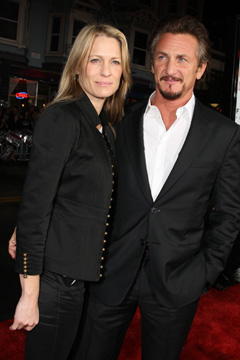 Penn and Wright filed for divorce in December 2007 after 11 years of marriage, but in April 2008 they called a truce and withdrew the papers. In 2009 they separated permanently
Penn was in a relationship with Robin Wrightthe unforgettable Jenny from Forest Gum. before, the then bad boy most charismatic of Hollywood had lived a little-remembered courtship with elizabeth mcgovern and an unforgettable, explosive and mediatic marriage with madonna. So much waste of adjectives is not for nothing. It is enough to remember the day of the wedding between the actor and the singer to justify them. It was August 16, 1985, and the wedding ended with a distraught Penn, brandishing a gun and shooting at the paparazzi who were trying to photograph the celebration from helicopters, while leaving an explicit written message in the sand so they could photograph it from the clouds: "Fuck you". You don't have to know English to understand it.
Sean Penn walked down the aisle for the first time hand in hand with Madonna on August 16, 1985.
If Penn's irascibility was known, his unique and extraordinary talent was no less recognized. And here we open another parenthesis. If the reader doubts that, I recommend watching the movie Mystical river. At one point Penn's character learns of the death of his daughter. His scream / his scream is so heartbreaking / visceral that it becomes unforgettable. For that scene alone he deserves to enter the pantheon of fame. But let's close parentheses and return to the love story.
As we wrote before, when both actors met they were engaged. With no possibility of romance or betrayal, they chose to be friends. "I think our relationship was born of mutual respect. Sean liked to have conversations that weren't just about making movies. That's a hard thing to find among your friends here, and that's where our friendship really grew, "explained the South African about that friendship.
The years passed, the movies and awards followed. In 2004 both were awarded an Oscar. She took him away because of her shocking physical transformation and her performance in Monster; he for Mystical river. Today, almost 20 years later, the image of both with their statuettes is still hypnotizing. The almost 10 centimeters difference in height that Theron has Penn is not even noticeable: they were even in magnetism and talent.
Theron and Penn pose with their Oscars when they were just friends (Getty Images)
That's the way things were. Friends with complicity and without rights and very committed to their partners. Charlize with Stuart Townsend, her boyfriend for nearly a decade. Penn with Wright, with whom he had two children; She was so happy with her marriage that in the credits of many of her films she asked to appear with her husband's last name. However, in 2010 both couples separated. Theron broke up with Townsend because, according to her relatives, "they had become more brothers than lovers." Penn, after an unsuccessful reconciliation, divorced Wright.
By 2013 they were alone and without commitments. They decided to ring in the New Year together in Hawaii. Theron arrived on the island without her little boy. jackson, to celebrate the arrival of 2014 in the actor's beachfront home on Oahu. Photographers caught Penn surfing while Theron soaked up the sun. They never confirmed if it was in that place that they stopped being friends to become boyfriends, but such a setting made Cupid's job quite easy.
"I never had the dream of the white dress", confessed flatly Charlize Theron
Confirmed the romance became the perfect couple. Both, always discreet / hermetic to talk about their private lives, recognized their love before the press. "It's the love of my life", she admitted. "I'm surprised to be in love," he admitted. "There is a base of 20 years shared with the other. It is the basis of something that brought beautiful things to my life, "she declared the blonde. "I wish I could translate this without sounding subjective by personal relationship, but she really is a director's dream. She is not my girlfriend, she is the love of my life, "he admired her. Oh love, love…
The romance was so strong that Penn decided to give his girlfriend a wonderful gift. Do not think the reader that he bought you a diamond, a mansion or a strange pet. None of that, let's not forget that this is Sean Penn. During the charity gala Help Haiti Home he organized, auctioned off his arsenal, made up of 65 firearms. More than an act of solidarity, it was a test of love to Charlize: "A strong woman, who happens to be from South Africa, has convinced me to get rid of the weapons. and cConsidering how liberating it is to get rid of that shit and the ugliness, it would be foolish not to donate these weapons and destroy them. the sculptor Jeff Koons he is going to turn them into a sculpture," he explained. It was not necessary to remember that In her adolescence, the actress saw how her mother killed her father in self-defense.
Sean and Charlize paraded their passion on the most important red carpets, where they were seen to be in love. It was rumored a marriage proposal in Paris and that the actor had become a father for Jackson, the adopted son of his girlfriend. Even Dylan, the daughter of Sean and Robin Wright, declared that Charlize was "brilliant and the only woman since my mom who can shut my dad up."
It seemed that the wedding bells were ringing, but what ended up ringing was the "end game" whistle. In June 2015 the breakup came, without explanations or communications.
When Charlize Theron and Sean Penn broke up, speculation intensified (Photo: AFP)
What happened? According to reports/speculations at the time, it was she was the one who made the decision and also made what is known today as ghosting. I mean, she stopped calling him on the phone, answering messages or at least "give him the thumbs up." She disappeared, without further explanation.
Almost a year after the breakup, they coincided in the Cannes Film Festival. they presented the last face, a film they had shot together. That same couple that exuded love was now ignored at events and conferences. If they had to be close, they looked tense. The magnetism had been transformed into repulsion.
Only in 2016 Theron decided to explain a little what had happened in an interview for the Wall Street Journal. "We were in a relationship and it didn't work out. We both decided to separate. That's it. There was no story or crazy drama, "she assured without turns or drama, and added another clarification / denial:" It was a very new relationship. The story that Sean was going to adopt my son is not true. It's not something that happens in 18 months. You can't do that to a child."
"I chose to be a mom in my thirties and it's been great, it's given me perspective," says Charlize Theron
Some time later it cleared up again. The Howard Stern Show: "I haven't 'almost married' Sean, that's nonsense… It was a relationship, that's right," he continued, but specified: "It lasted just a year. We never moved in together. I never thought of marrying him."
In 2020, Penn, 59, married the actress Leila George D'Onofrio, 28. Theron continues to enjoy being Jackson and August's mom, and being single. "I like dating but I don't know if I'll ever be able to live with someone again. To be honest, they may have to buy the house next to me. I don't know, I'm too old to deal with it, "she assures. Since their breakup, both Penn and Theron have continued with their lives, their jobs and affections, and perhaps sometimes, when they see a photo of both of them, they smile while admitting "I don't remember… forgetting you."
Although Charlize Theron and Sean Penn's romance was relatively short, it is one of the most remembered (Photo: Getty Images)
KEEP READING
We would like to say thanks to the author of this short article for this amazing content

He loved her, she not so much: the story of passion and heartbreak of Sean Penn and Charlize Theron